Looking for the best, easy-to-use, customizable, and free Printable Calendar 2024 One Page template? Each of the printable yearly calendars, starting with the year and month of your choosing – features 12 months on a single page. They can be edited easily and do not require plugins. Take a look at the different formats and styles we offer on our website, Printabletree.com. Whether you need to craft a calendar for your home, school, club, company, or other organization – we've got your back.
Hundreds of templates for Printable Calendar 2024 are available on our website. Users don't need to search for Printable Calendars on multiple sites or marketplaces. We have a wide variety of sleek Printable Calendar templates. Any 2024 calendar template can be chosen and printed by viewers according to their requirements.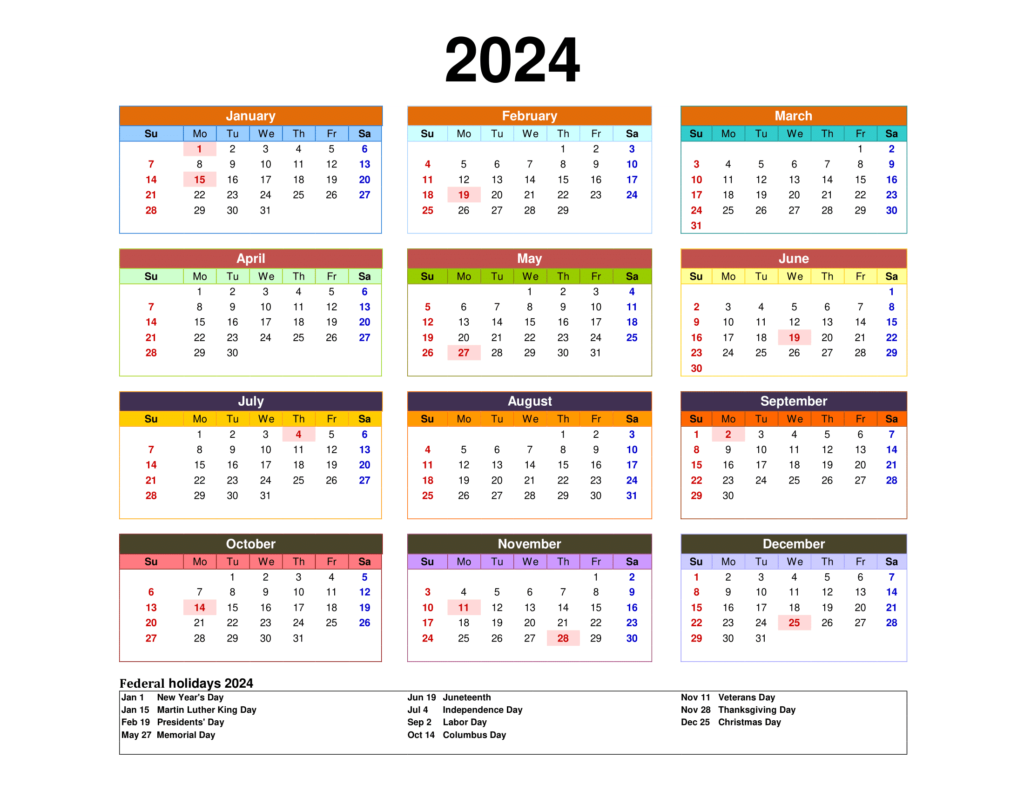 Printable Calendar 2024 One Page Yearly PDF Templates
This Printable Calendar 2024 one page yearly with various templates is designed so that users from different fields can choose any of the 2024 calendars and make schedules, and plan holidays, activities, gatherings, and meetings accordingly.
Printable Yearly Calendar 2024 Single Page
Printable Yearly Calendar 2024 single page showcases all the months in just a single page. For those who make annual plans, such as in school, college, and the annual submission of articles, this calendar is handy. People can look at all the dates, all the holidays in one glance.
Calendar 2024 page yearly blank is useful for those who have to schedule events and make appropriate plans. In PDF form, Printable Calendar 2024 would be helpful in organizing their regular schedules and plans. By reviewing their schedules on the 2024 PDF form calendar, people can review meetings and submit reports on time. This 2024 printable calendar design is also editable, so they can make any adjustments to their schedules if employees need to make any changes.
So What are You Waiting For?!
Now's your chance! Download your favorite monthly planner, free of charge, right now! You'll be glad that you did – especially once 2023 begins and our planners make you feel more productive and organized than ever before!
Daily planners, Weekly Planners, Password Logs / Trackers, Reading Log, Fitness & Workout Planners, Meal Planner Templates
Calendars for 2023: Monthly · January 2023. February 2023. March 2023. April 2023. May 2023. June 2023. July 2023. August 2023. September 2023. October 2023. November 2023. December 2023 2023 Yearly Calendar One Page

Calendars for 2024: Monthly · January 2024. February 2024. March 2024. April 2024. May 2024. June 2024. July 2024. August 2024. September 2024. October 2024. November 2024. December 2024 Yearly 2024 One-Page Calendar