Looking for a February 2024 Calendar Printable PDF ? We have hundreds of the best printable calendar templates available on our website.
The year is going to end soon, and for the years ahead, everybody needs to make new resolutions. Time moves so quickly that in the near future, everyone has to realize their expected target that needs to be accomplished. It is necessary to download a personalized Printable February 2024 Calendar template that will have the personal touch such as your favorite picture or company identity to schedule and strategize activities for your well-being.The personalized printable calendar is the perfect choice that provides the office or home with huge appeal. The calendar serves as a perfect gift for customers and clients as well. Kids, adults, and old aged individuals can use this calendar to organize activities under their comfort.
Blank Printable Calendar February 2024 PDF
This is the platform where you will get everything that fits your corporate standards and needs. The Blank February 2024 Calendar Printable is where you can easily plan your daily tasks & responsibilities to ensure continued success. Offered in PDF and Word format, this calendar can be customized according to personal preferences. Before it gets processed for printing activities, you are free to type in anything. The download is free of charge and a single click on the button will result in the A4-sized sheet being printed – which is generally used in printers. You can have as many copies as you want, without paying a single cent.
Advantages of Printable Calendar February 2024
A Printable Calendar February 2024 with Holidays allows one to manage time properly instead of randomly switching from one task to another. The perfect platform where you can have the ideal organizational match for scheduling activities in the best order is a Printable Calendar.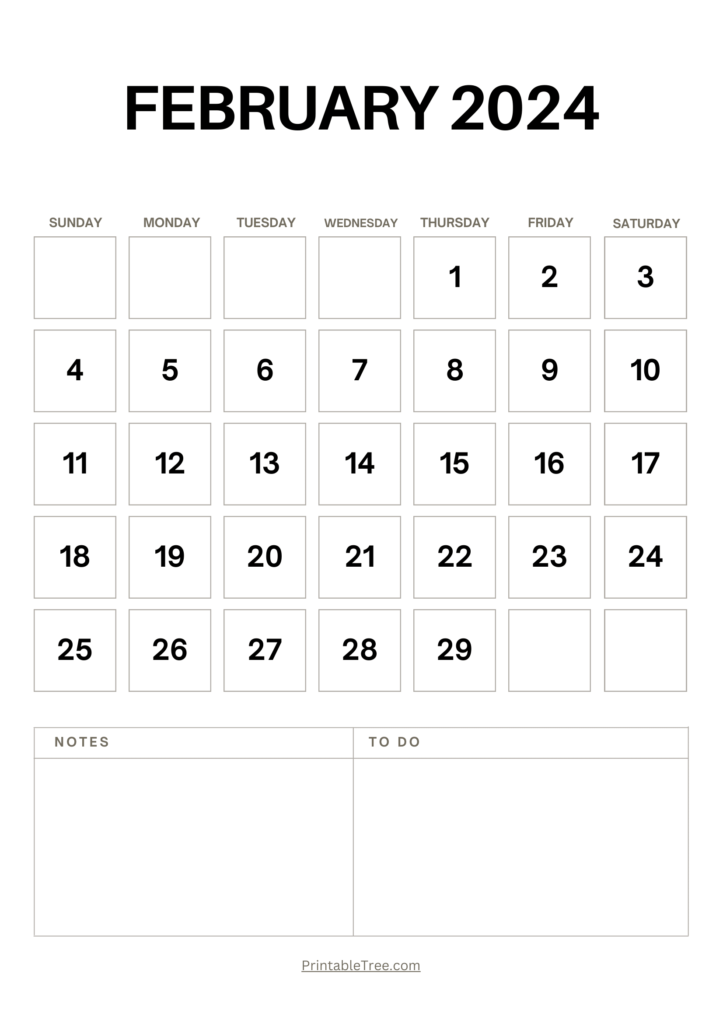 So What are You Waiting For?!
Now's your chance! Download your favorite monthly planner, free of charge, right now! You'll be glad that you did – especially once 2023 begins and our planners make you feel more productive and organized than ever before!
Daily planners, Weekly Planners, Password Logs / Trackers, Reading Log, Fitness and workout Planners, Meal Planner Templates
Calendars for 2023: Monthly · January 2023. February 2023. March 2023. April 2023. May 2023. June 2023. July 2023. August 2023. September 2023. October 2023. November 2023. December 2023 2023 Yearly Calendar One Page

Calendars for 2024: Monthly · January 2024. February 2024. March 2024. April 2024. May 2024. June 2024. July 2024. August 2024. September 2024. October 2024. November 2024. December 2024 Yearly 2024 One-Page Calendar